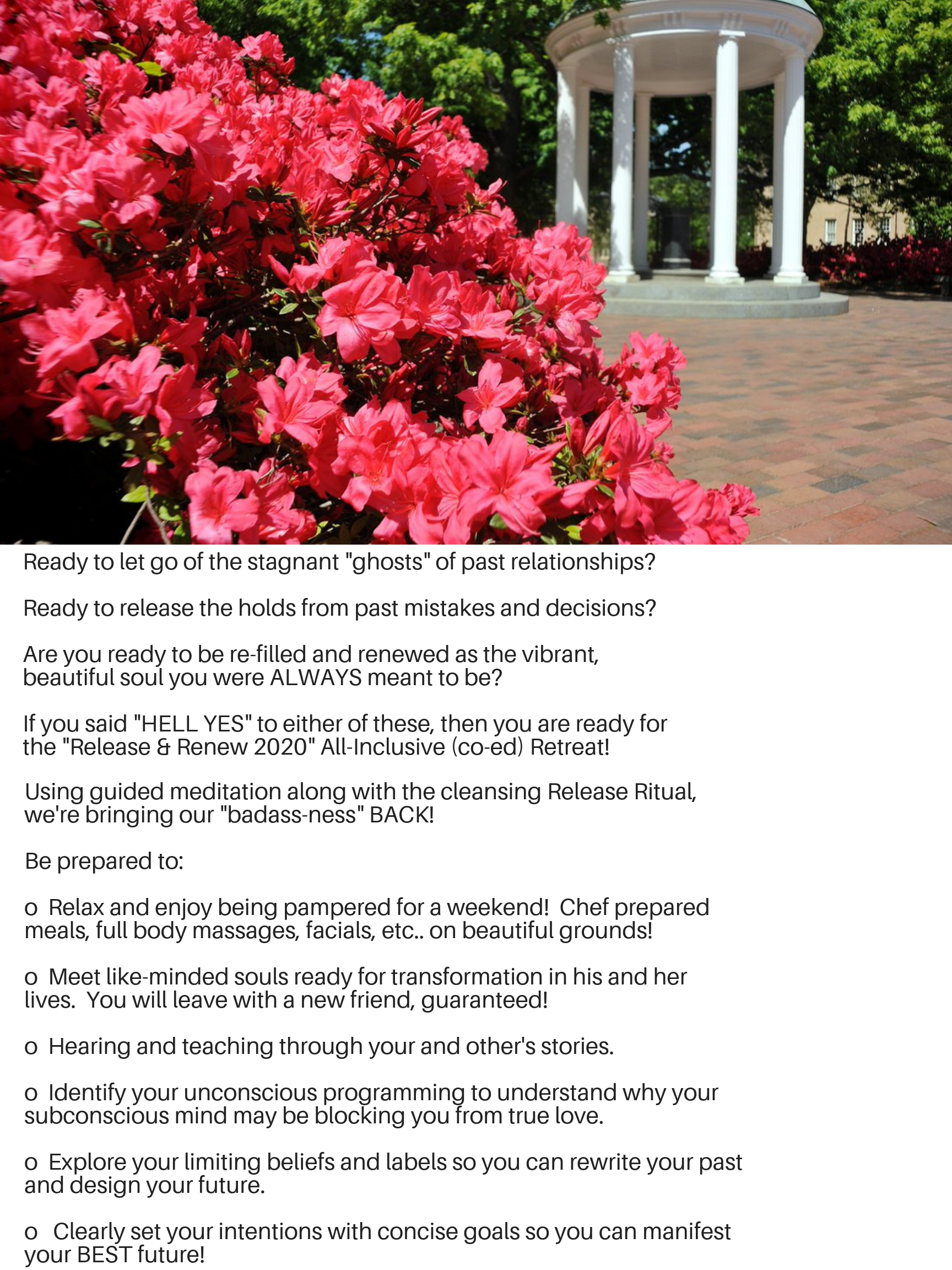 Release & Renew 2020 Retreat
ALL INCLUSIVE GETAWAY / WORKSHOP
When: 27 - 29 March 2020
Where: The beautiful "Rizzo Center" at 150 DuBose Home Lane, Chapel Hill, NC
Investment: From *$917 - $1142 *Early Bird price
($1299 - $1535 Reg Price)
Payment plans available!
You only have to worry about getting here and getting back home!
The rest is taken care of for you!
o Lodging INCLUDED (3 Days, 2 Nights / single or dbl occupancy)
o ALL meals + snacks INCLUDED (private chef prepared - vegetarian options available)
o Workshop Materials / Activities INCLUDED
o Workbooks, supplies, etc. INCLUDED
o BONUS Sunrise Yoga and Meditation Sessions
o FULL Body Massage, Facials, etc…
Aloma Life Coaching General Refund and Return Policy: All sales are final on coaching & consulting services, digital product purchases and live events / retreats. No refunds are offered for event / retreat tickets however, your ticket(s) is transferable, meaning you may allow someone to attend in your place.
PAYMENT PLANS: If you opt for a payment plan, it is offered to you as a courtesy. You are responsible for making all payments in your agreement of purchase. Scheduled payments are attempted on the due date per the agreement. Should payment processing be unsuccessful on the first attempt, Aloma Life Coaching will attempt to process the scheduled payment twice more. Any payment declines not resolved in a 4-day time frame will end plan courtesy and full payment is due immediately. If full payment is not made, all previous payments are forfeited.
By placing your order, you are indicating your agreement to the terms of this offer and to our billing policies.